A wise man once said
'All a man will ever truly know is his own opinion. And opinions change all the time.'  Dömuddha (me)
Everything I say is filtered through my playing/life experience and personal preferences. As much as I try to be objective, my perspective is my own, not anyone else's and definitely not universal.
So, read this subjective REVIEW but make up your own mind by checking out the DEMO.
Now, let's begin.
TAN basses
are a small one-man-shop from the town of Galați, Romania. Andrei, the bass-maker, started building instruments around 2012, mostly because he couldn't afford neck-through basses, according to his own words. Up until now he built around 15 basses, all of them custom tailored to fit his clients' desires. I had the pleasure of demo-ing a TAN S-Type Singlecut and although I appreciated all the bells and whistles (e.g. the Mike Pope preamp) on it, I must say, I prefer the meat and potato approach of the Blue bass.
The TAN Classic Deluxe
is a new take on the well known and much appraised Jazz Bass sound. Passive, sporting two Aguilar 5J-HC pickups, it has an organic, meaty voice suited for more musical situations than you'd give it credit for. Upon holding it in my hands, my first impression was that it might be the illegitimate child of a Fender Jazz Bass and a Warwick Streamer. It certainly bears resemblance to both, the upper horn hinting at the classic lines while the curves of the body and the lower horn give it a more modern appearance.
Look wise
the Blue Sparkle finish is a bit of an eye candy. I must confess I was pleasantly surprised, I expected it to be more plastic-y but the sparkles give the paint job a bit more depth. I'd love to see how it ages and what kind of yellowish or maybe greenish hue it gets over time. The matching headstock is also a nice touch, gives it a nice retro vibe. The familiar angled tuners and the old school pearloid pickguard reinforce the feeling that this bass is the marriage of old and new.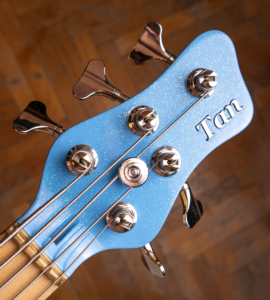 Build wise
the Classic Deluxe is a well constructed instrument, featuring some high grade components. The wood choices ( all maple except the american walnut fretboard binding) line up with the classic approach, while the hardware (custom high mass bridge, Schaller tuners and LEDs) might make it more desirable for the modern player. While not everything is perfectly done (my knack for finding imperfections can be both a blessing and a curse) the attention to detail is certainly to be appreciated.
Tone and feel
I've only had the bass a month, played it just a couple of days on and off, due to my busy schedule but I felt at home playing the TAN. Although my experience with more 'classic sounding' instruments is limited to my own 1995 Japanese Fender Precision bass and the times I fiddled a couple of vintage Fender Jazz basses, I recognised the old school 'snap and bite' to the tone, especially with both pickups full on. Talking about the 'snap', the maple fretboard is definitely a large contributor.
The lows are clear and punchy, the mids are not overwhelming and the highs cut through. Maple is often associated with brighter sounds and although the TAN can be pretty sizzly at times, it doesn't go overboard. There is a bit of a mid scoop to my ears, mostly because I am so used to my mid-heavy Warwick basses, but I didn't feel the need to compensate with electronics. 'The tone is in your hands' might be an overused cliche but it's true – you carry your sound with you but you need to invest time to get to know your instrument.
There is a certain hollowness (not lack of mids, but don't know how else to describe it) that adds a very interesting character to the sound. The bass stays true to the Jazz Bass spirit but puts a spin of its own on it.
Ergonomics
Sometimes comfort is sacrificed in order to get that specific tone or sleek look. Heavy exotic woods, smaller bodies. I should know, my Thumb bass isn't the most snuggliest snuggly bear when it comes to adapting to my body and being comfy to play. Thankfully the TAN has no issues in the neck dive department, it's easily one of the most well balanced instrument I played lately. It weighs just about 4,45 kg / 9,81 lbs, making it a 'lighter' bass, when compared to my 5,6 kg – 4,9 kg heavy weights. Props for fighting the good fight for our backs!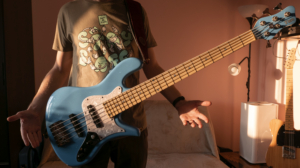 I would have liked for it to have a satin finished or oil finished neck, because I'm not particularly fond of lacquered necks but it did not feel overly sticky. The neck profile is in the 'slimmer' category, making it easy to jump around the fretboard.
At the request of the builder I didn't change strings or fiddle with the action, I played it with the exact setup I received it. It didn't take too long to get used to the wider 18mm string spacing, even after 15 years or so of 16,5mm. The action was medium low, maybe a tid bit too high for my taste, but definitely easily playable.
The only issues I found with the bass were an unfortunate combination of factors that culminated in a bit of intermittent buzzing. I had a hard time pinpointing the source of the noise but it was obvious from the get go that it is a grounding issue. Turns out the coated Elixir strings are not conductive and can cause problems in certain combinations with passive electronics/pickups. Roger Sadowsky has a more extensive article on this issue, check it out if you have similar problems with coated strings. Bottom line is once you change the strings, the problem goes away.
Talking about the strings, I found that the A string has a bit more output than the rest of the strings. That might be because the exposed pole pieces of the Aguilar pickups that are a bit higher under the A string. Also, might be easily solvable with a little setup.
All in all
I found this bass comfortable to play, pretty versatile tone wise – should fit into most musical situations. The Blue Sparkle finish makes it stand out on stage and the extra LED blue side dots not only help you find your way in the dark but add to the premium feel of the instrument.
Although TAN are not yet ready to compete with the experience and fame of well established international boutique manufacturers ( Fodera, Ken Smith, F Bass etc) I certainly salute their tenacity and persistence to become one of Romania's finest custom bass builders.
please check out the full DEMO if you haven't already:
here are the specs of the bass:
34″ scale
24 frets
all maple bass
Blue Sparkle finish
Aguilar AG 5J-HC pickups
Passive electronics
Schaller hardware
Elixir Nanoweb light .045″ strings
4,45 kg / 9,81 lbs
For availability, pricing and more info, check the TAN Basses Facebook page.
thanks for reading through to the end!
stay safe!
https://absurdcus.com/wp-content/uploads/2020/12/header-scaled.jpg
1094
2560
absurd_dev
https://absurdcus.com/wp-content/uploads/2019/03/logo-big-1-300x82.png
absurd_dev
2020-12-01 20:24:16
2020-12-02 10:05:05
BASS REVIEW - the TAN Classic Deluxe 5